Load Cells
Load cell is the heart of the electronic measurement device. These are designed to meet the most stringent requirement with respect to accuracy and performance. It's highly sophisticated and super sensitive electronics are housed in rugged fully stainless steel with true IP68 enclosure to suit the hostile outdoor environment. Other critical factors such as overload protection, consistency in varying temperatures, simple mounting and complete inter changeability are also met. We use compression as well as double ended shear beam load cells in our weighbridges to give you the right solution. Certifications have been obtained from world wide accepted authorities like the OIML, the EEC authorities and the NBS handbook 44.
These are weight sensing elements which convert weight into electronic signals. The entire steel framework is mounted on a 4 to 6 strain gauge compression/shear beam load cells, depending on length of the platform.
Calibration Weights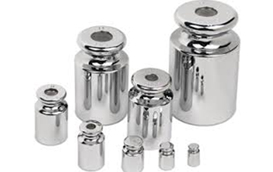 We are one of the most trusted brand in the market who is engaged in manufacturing and supplying all types of Calibration Weights. Our professionals always ensure to manufacture these weights with the help of single piece of metal, in compliance with the international quality standards. These weights are designed in strict compliance with the international set quality standards. Furthermore, post production; our professionals test all these products on different criteria in order to ensure flawlessness and optimum performance at the clients' end.
Standard Weights



Our cast iron weights are the most trustworthy name in the market as we are engaged in manufacturing and supplying a complete range of Standard Weights. These weights are manufactured in accordance with the set guidelines for this domain. Clients can avail from us all types of class E1 and E2 weights at most affordable prices. These weights are widely used for adjustments, testing and calibration of different weighing instruments according to the set OIML R-111 rules and guidelines. Furthermore, these weights are known to provide accurate measurements.