DIGITAL WEIGHT INDICATOR STRW-2000 series
This device is a perfect combination of the reliable hardware design with the software technology. Designed as a most excellent weighing instrument up to date, the device adopts the MCS-51 single-chip micro processing unit and accurate, speedy A/D conversion technology. This indicator is suitable for electronic truck scales, electronic floor scales, static railway track scale, electromechanical scales, and static weighing system with 1-6 load cells. These indicators have model approval from Legal Metrology Authorities.
General Specifications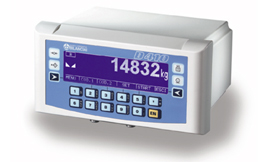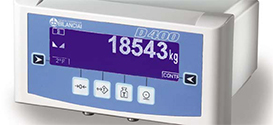 The new Dialogica series of terminal reflects the outcome of advanced and constant research and of the considerable know-how acquired by Coop Bilianciai weighing sector. Innovative terminals designed to satisfy the new requirements of a market in constant evolution. The D 410 electronic terminal ensure maximum ease of dialogue with the operator,thanks to alphanumeric keypad and backlit graphic display and which is extremly simple to use and offers the facility to change the shape and size of the characters to suite different operating conditions. With a generous number of functions and possibilities of expantion the instrument affords extensive scope for interfacing with PLCs , PCs printers and automation systems.Rack-mounting and tabletop version are available,both presenting similarly compact dimensions.The product bears the EC mark in accordance with EEC directive 90/384 and is connectable to any type of load cell.Monoscale and multirange versions are available.
Technical Data


Power Supply: 85÷265Vac,50/60Hz,40w


Operating Temperature: -10°C to +40°C


Storage Temperature: -20°C to +70°C


Analogue loda cell power supply: 10Vdc;min.29ohm


Maximum voltage at cell input: 23m V


6-wire cell connection with sense lines


Maximum external resolutions:10.000 div.OIML(for "legal" use), 60.000 div.(not for "legal" use)


Maximum read rate: 100 conversatin/s


Analog filter 8Hz; automatically variable digital filter


Transmission speed programmable up to 115.200 baud


Automatic recognition of set options


Calibration with facility of "linearisation" function (max 5 points)


Permanent clock and calendar


Backlit graphic display,diamension 135*32mm


18-key alphanumeric polyster keypad


Front panel protection catogery : IP65


Relative humidity : max 85% non condensing